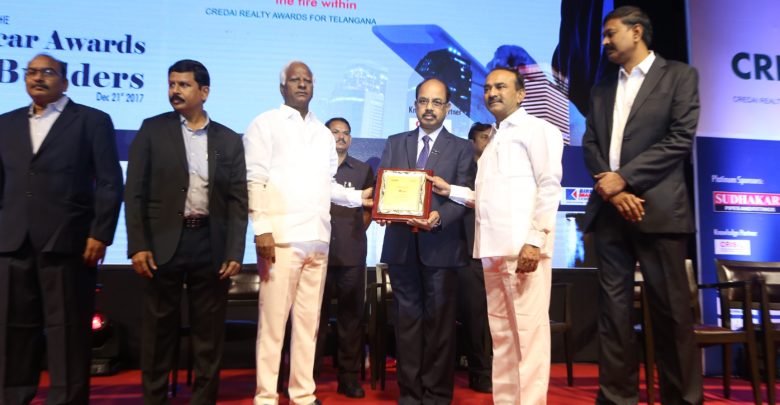 1st CREATE Awards 2017 by CREDAI Telangana Presented
CREATE – CREDAI Telangana Real Estate Awards for Telangana recognized the best real estate projects based on design, innovation and execution across the Telangana State
The Confederation of Real Estate Developers Association of India (CREDAI) Telangana presented the 1st edition of 'CREATE -2017' to members for outstanding contribution to the real estate sector during the last financial year. CREATE-2017 (CREDAI Real Estate Awards for Telangana) is a platform by CREDAI Telangana, under whose aegis different awards were given to the members who have exhibited excellence in different facets of real estate activity. The glittering awards ceremony was graced by Mr. K Srihari, Deputy CM – Government of Telangana, Mr. Etela Rajendra, Finance Minister, Government of Telangana, in Hyderabad in the presence of Mr. G Ram Reddy, President, CREDAI Telangana, Mr.Ch. Ramchandra Reddy, General Secretary, CREDAI Telangana, Mr. A Anand Rao, Mr. K Naresh Kumar and Mr. E Premsagar Reddy, Vice Presidents CREDAI Telangana, Mr. K Indra Sena Reddy, Treasurer, CREDAI Telangana along with Mr. S Ram Reddy, President CREDAI, Hyderabad, P Venkateshwar Rao, President CREDAI, Warangal, V Rajsekhar Reddy, Chairman, CREDAI, Karimnagar, Satish Attal, President CREDAI, Nizamabad, Suresh Kumar V, President CREDAI, Khammam,  D Venkateshwar Rao, President CREDAI, Kothagudem along with members of CREDAI Telangana and other guests.
CREATE 2017 is first of its kind award which recognizes the excellence in different facets of Real Estate all over Telangana State including members from Hyderabad and other district chapters of Warangal, Karimnagar, Nizamabad, Khammam, Mehboobnagar and Kothagudem. The renowned research and rating agency CRISIL, the knowledge partner for CREATE 2017 provided detailed insights to the jury and helped to identify the best projects in different categories to be awarded. 
Telangana real estate has been on an upswing and Hyderabad realty has been also growing over the last 2 years.  Hyderabad is expected to see an office space absorption of approximately 7.5 million square feet this year, its highest ever in a year, due to robust demand from IT/ITeS companies, followed by BFSI and startups, driven mainly by talent pool availability and relatively lower rentals.  Strong performance backed by increased office space absorption has boosted investor confidence, and encouraged new projects across the market. CREATE 2017 is an initiative to recognise all those who have contributed to this success and growth.
Speaking on the occasion Mr. G Ram Reddy, President, CREDAI Telangana said, "CREDAI is the voice of the real estate sector and works closely with the Government in the formulation of the policies and guidelines for the real estate sector both at state and national level. Telangana State is a progressive state with a proactive government which is rated amongst the best in ensuring ease of doing business. The real estate sector in the state is a growth engine as an income and employment provider and multiplier for the state. CREDAI members are contributing to 90% of the real estate activity in the state and are working closely with the government to drive the growth. The First edition of 'CREATE 2017' is designed to recognize and reward the excellence in different aspects of construction, by the best developers (CREDAI members) in the state. We thank the dignitaries for taking time out from their busy schedules to felicitate and encourage the developers and congratulate all the winners of CREATE 2017 awards and wish they continue their great work."
Adding to this Mr.Ch. Ramchandra Reddy, General Secretary, CREDAI Telangana said, "We are pleased with the overwhelming response for the 1st edition of CREDAI Real Estate Telangana Awards "CREATE"2017. The developer members of CREDAI Telangana across the 7 chapters have come forward to showcase their projects and nominate themselves to any of the 9 categories . The Jury had a lot of difficulty in identifying the winners of CREATE 2017. We congratulate the winners of CREATE 2017 and hope they continue to participate in the development of the state and help make Telangana State a model for real estate development and innovation for other states to emulate."
The Award Categories are
Apartment projects above 20 units
Apartment projects below 20 units
Apartment projects upto 40 Lakhs
Apartment projects costing above 40 Lakhs and  upto 70 lakhs
Apartment projects above 70 Lakhs
Villas and Row Houses
Office/ Commercial Complex & Shopping Mall
Plotted Development
Best CSR activity by a Developer
Winners are decided in each of the above categories for each district chapter of CREDAI Telangana.
About CREDAI: The Voice of India's Real Estate Industry: 
The Confederation of Real Estate Developers' Associations of India (CREDAI) is the apex body for private real estate developers in India. CREDAI represents over 12,000 developers through 173 city chapters and 23 state federations. Its numerous initiatives and activities help developers come together and work towards better practices, improved customer service and a stronger realty industry.