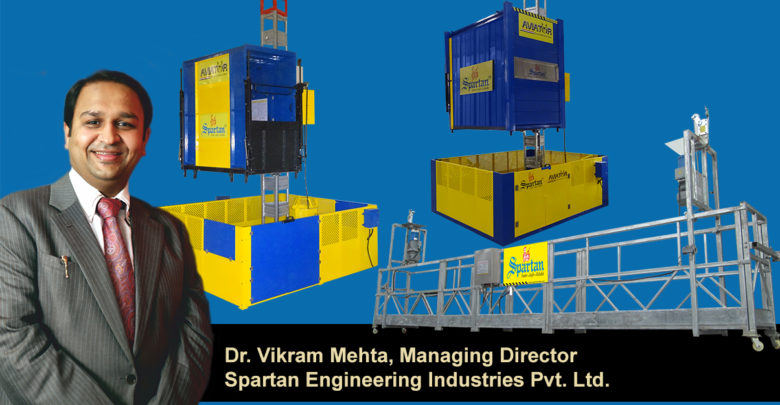 Better material movement with a revolutionary product launch
Excon has always been a priority for Spartan Engineering Industries in terms of Expo participation and promotion. We are displaying a mammoth Spartan Castle as the theme.
Tell us about the effect of GST & demonetization in construction equipment industry in India in 2017-18?
On a long term GST & Demonetization and not to forget RERA would affect the industry and we are seeing it even now. This is a tough phase, but on a long run, whole industry including the end users would benefit from it. But what is to be seen is the execution and fulfilling the promise. At this point of time, hope the government will come up with better policies and reforms to come out of the current scenario. Especially for construction equipment and construction industry, things as of now are skeptical and we are keeping our fingers crossed. Though nothing seems to be easy till end of the year, next financial year, i.e. 2017 – 2018 hopefully things will be better.
What are your short term and long term predictions of the market conditions for "Spartan Engineering Industries Pvt. Ltd."? How will it impact your business?
Considering the government's stance and various policies catering to Construction & Infrastructure industry, the future seems to be positive. We will be able to revolutionize and achieve growth slowly. We have a lot of expectations from the prospects ahead in terms of business for our machineries. Moreover, we are also expecting positive growth from high rise constructions which are gaining prominence not just in metros but also in tier-II cities. This also opens new growth avenues. We will be focusing on expanding our reach to these areas as well by expanding our dealership networks. We already have 8 branch offices. We are also focusing on our export business. We already have a dealer in Dubai and Sri Lanka and are getting good responses.
What are your expectations from EXCON 2017 and how will it benefit your company's participation and promotion?
Excon has always been our priority in terms of Expo participation and promotion. We have been Lead Sponsor for Excon in 2013 and had 500 sq mtrs outdoor stall displaying a mammoth Spartan Castle as the theme.
It is one of the best platforms to interact with customers, introduce our new products and built trust and faith in us. This year our core objective would be to introduce our new products other than our India's largest selling Cutting, Bending machines and hoists. Spartan is going to launch a product, which would revolutionalise material movement for the projects not more than 70 meters.
Spartan is leading a purpose to ban the unsafe builder hoist. Tell us about the safety features and new products you are launching at EXCON 2017.
In Spartan's effort to ban the unsafe builder hoist, we have come up with a product which would replace the obsolete technology. The product is Spartan Multifunctional Minilift (SML 100). It is a wire rope driven minilift which can carry various material till 1 Ton capacity and Spartan Multifunctional Minilift (SML 50). It is a wire rope driven minilift carrying 500 kgs. These machines come with different attachments for carrying different material and is very cost effective. This machine comes with attachments like, Passenger MiniCage, Rebar Carrier, Bricks Carrier, Sand Bucket, Material Basket, Concrete Bucket, Glass/ Marble Lifter and Wheel Barrow. SML comes with optional features like wireless remote control and over load protection.
It comes with various Safety Features like:
Double fall wire rope system which reduce swinging effect of load while lifting.
Top limit switch preventing over travel.
Motor with electromagnetic brake system, which prevent free fall in case of power failure.
Made in Europe winch motor with CE certification, which has high performance and high efficiency.
Anti swing wire rope arrangement for mini cage, rebar carrier, bricks carrier, sand bucket, concrete bucket, glass marble lifter, material basket
Free fall arrester brake device arrangement for mini cage, bricks carrier, sand bucket, material basket, concrete bucket,
Erection jib for safe and fast assembly of gantry frame.
We would also be launching SkyClimber series of Rope Suspended Passenger & Material Lift (SRPL) which is available in 2 variants of 700 kgs  and 800 kgs. It is the best alternative to scaffolding for all activities to be carried out in lift shafts like Rail Installation, Plastering, Painting and Pipe Fitting. It comes with various features like:
Control Panel
Drive Unit
Guide Rollers
Side Extension Cage
Safety Lock Device
Ladder
Wheels