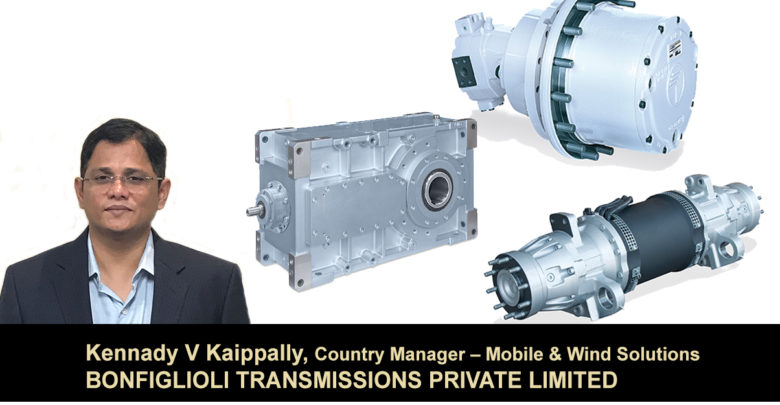 Growth and maturity of Indian CE market providing opportunities
The key strength of BONFIGLIOLI TRANSMISSIONS lies in the ability to design and develop customized solutions for a wide range of specialized equipments.
Q 1) What business trends you are going to witness in construction equipment industry in India in 2017-18?
We are seeing firming up of demand in 2017-18 for the construction equipment sector. The growth has been largely driven by enhanced government spending on infrastructure, in particular on road construction. We have witnessed a sharp growth in demand for equipments in this sector helping us to post our highest sales in the business vertical.
Q 2) What are your ideas and estimates of the market conditions for "BONFIGLIOLI TRANSMISSIONS PRIVATE LIMITED? How will they expand your business?
In the short term, we see no letup in government spending on infrastructure, given its focus on bridging the infrastructure deficit. This we believe will drive the construction equipment market in the short term. In the long term, given the low equipment density in India, there is always going to be a strong demand for construction equipments.  However, this demand might not be secular. Specialized high productive equipments will gain ground as the market expands and matures. Our key strength lies in our ability to design and develop customized solutions for these wide range of specialized equipments. This necessitates a constant engagement with customers, right from the initial design phase, as these products have highest levels of customization. The growth and maturity of the Indian construction equipment market provides us with many opportunities.  With our local design center & manufacturing facilities, being present for nearly two decades in India and having gained a deeper understanding of the market, we are well placed to take advantage of these opportunities.
Q 3) Give us an insight on what are you looking from EXCON 2017 and how will it grow your company's business projections?
EXCON 2017 gives us the chance of showcasing our solutions and latest offerings for the CE industry. It also giving us an opportunity to meet customers from different CE market segments under one roof. We expect to interact with broad range of customers that would result in both tangible and intangible benefits for us as well as our customers. EXCON also provides the largest platform in India for interaction between end users, OEM's and aggregate suppliers of CE equipments. Such interaction makes us all of us more insightful to each other outlook and we benefit from having a broader perceptive of the market.
Q 4) How many models are you going to exhibit at EXCON 2017? Are you launching any new series at the event?
Excon has always been an exhibition were we have presented the latest of our product offerings and Excon 2017 is no different. Along with showcasing our marque products like solutions for excavators, transit mixers, road building machines, material handling machines, that are well known and have become the bench mark in the industry, this year we will be showcasing some of the latest products for the first time in India. These will include;
600F axle for electrically operated vehicles. Bonfiglioli supplies high efficiency, low noise planetary axles and drives with integrated, high performance electric motors and low maintenance braking systems for Class 1 material handling vehicles.
600W2/3 Hi-Low gear shift final drive. This gear shift final drive is specifically designed for wheeled and tracked machines featuring a significantly different travel/operating speed ratio. The product is the ideal solution for road paving machines, construction equipment, as well as agricultural and forestry machines
HDO-Bevel Helical gear reducer. The bevel helical gear reducer series from Bonfiglioli optimizes superior performance with compact dimensions and flexibility. The several options that can be selected from the catalogue facilitate customization to meet specific application requirements. Gear case from nodular cast iron guarantee rigidity in all circumstances while gears, integrally ground finished on their profile, ensure quiet and vibration-free operation even in the harshest conditions.