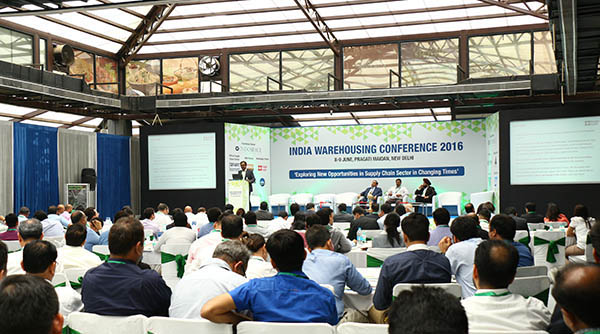 Leading event on redefining logistics to explore new business opportunities
The 7th edition of India Warehousing Show, a "must-attend" event for the worldwide warehousing & supply chain industry is taking place from 27-28-29 July 2017 at Pragati Maidan, New Delhi. The USP of India Warehousing Show has always been the perfect mix of buyers coming to the show. The show hosts buyers from 3PL/4PL companies, Automobile, OEM, FMCG, Electronics, Manufacturing Units, Retail Companies, Government Departments, Architects and Consultants. This is an unmatchable congregation of industry leaders from these sectors in any show on logistics and this makes IWS, the ultimate market place for warehousing, materials handling and supply chain.
With the much-awaited implementation of GST, international companies seeking to enter Indian market to grab investment opportunities. IWS 2017 will have more than 250+ international and Indian companies showcasing their latest products and technology for the sector. IWS is coming up with some of the biggest brand names who are participating for the first time in 2017 like Shakti Hormann Pvt. Ltd., Lakshay Buildtech, Barcode India Limited, Landsky Engineers Pvt Ltd, Guidance Automation Ltd, Shenzhen Chainway Information Technology Co. Ltd, Cheng Hua Engineering India Pvt Ltd, Nobelift Equipment Joint Stocks Co. Ltd, Dortmund & Hubbard llc., Zhejiang Jialift Warehouse Equipment Co. Ltd, New Era Warehousing, Loya Pre Engineered Buildings Pvt. Ltd, LN Wrench /LESS  DEAL, LiuZhou LiuGong Forklift Co., Ltd., Orange City Logistics Park and many more. If you are looking to set up a manufacturing plant, warehouse, supply chain network or upgrade the existing facilities, "IWS is a must attend event. With an exclusive concept to go beyond boundaries, this year we are coming-up with impressive line-up of new international players from Germany, UK, US, China, Taiwan, Dubai, Itlay, Switzerland to launch their products and solutions on this global platform" said Anuj Mathur, Managing Director, Reed Manch Exhibitions Pvt. Ltd.
Over 70+ product launches from industry leaders like Armstrong Machine Builders Pvt. Ltd, Falcon Autotech Pvt. Ltd., Zebra Technologies, SBNTEX FZE, Shandong Province Qingyun, Cheng Hua Engineering India Pvt. Ltd., Trafik Bremen Gmbh, B.M Techno Machines Pvt. Ltd. and many more.
A new talk session 'Investment Talk' has been introduced to raise funds for new projects as well as to upgrade the existing one on 28 July 2017 at Spiritz Cafe. We have also launched a new business matchmaking app GoConnect where we can get a chance to meet registered visitors, VIPs, conference delegates, overseas suppliers in a one-on-one basis. We believe it will help to build solid foundation for exhibitors as well as for visitors for fruitful business tie-ups," added Mathur.
"Annual conference has been upgraded this year as Warehousing Leadership Summit targeting top management from logistics and warehousing buyers industry to share their insights. Warehousing Leadership Summit will offer the supply chain professionals a distinctive experience featuring pragmatic content and networking opportunity. This summit is going to highlight the next generation supply chain, implementation & impact of GST in India. We also have new association support from The Chartered Institute of logistics & Transport (CILT). "Exhibitors have enticing opportunities for technology transfer through live networking between international suppliers and thousands of top buyers and trade visitors from more than 15 countries. Co-located with India Material Handling & Logistics Show, IWS will feature the best ever technologies in the industry," said Mr. Mathur.
The support from industry has just poured into IWS with over 15 trade associations and 40+ industry, media and publications are supporting and promoting the show amongst their members and readers. Similar is the case with our sponsors, leading brands have parked their trust by continuing their association with the show like Indospace has retained its title sponsorship of 'Foundation Partner' like every year, and Official Supply Chain Partner is Safexpress. The new on the list this year is Embassy is sponsoring our VIP Club program & Spiritz Cafe, Gandhi as 'Gold Partner', Kelley Material Handling as 'Silver Partner', Aaj Enterprises as '3 PL Partner' and Nido Machinery as 'MHE Partner'.
"It is a matter of pride for us that the leading brands of the industry have imposed faith in the show by partnering with for various activities. There are few more brands to be associated with IWS in next one month," concluded Mathur.