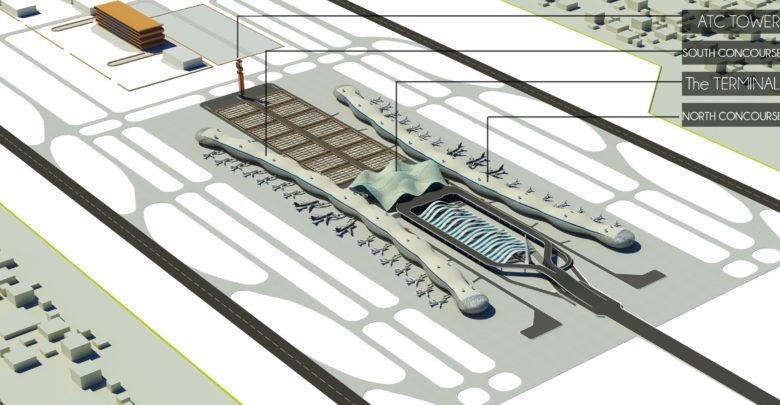 Navi Mumbai International Airport
Navi Mumbai International Airport (NMIA) which is under construction is one of the world's largest 'Greenfield' international airports aim at easing traffic congestion at existing Chattrapati Shivaji International Airport (CSIA). The airport is located at Kopar near Panvel in Maharashtra and will function alongside CSIA by year 2019.
The civil aviation industry in India is on a high- growth trajectory. With  aim to become the third largest aviation market by 2026, the Civil Aviation industry has ushered in a new era of expansion, driven by factors such as low –cost carriers, new modern airports, Foreign Direct Investment (FDI) in domestic airlines, advanced information technology (IT) interventions and growing emphasis on regional connectivity.
Mumbai one of the world's top financial capital Centre at present is heavily constrained in its airport infrastructure. To cope with future demand the Government of Maharashtra has proposed a second airport in Navi Mumbai for several reasons. Prominent among them is the fact that Navi Mumbai is expected to cater to the future growth in population, business and commercial activities. The availability of excellent physical and social infrastructure couples with an environment – friendly site makes the Navi Mumbai Airport project both technically feasible and financially viable. The Airport master plan will be developed in modules, operated and managed to internationally recognized standards.
NMIA, the mega project is being built on Public Private Partnership (PPP) model with the private sector holding 74% equity in the proposed special purpose vehicle and balance being held by Govt. of Maharashtra through CIDCO & Airport Authority of India (AAI).
The airport site is located in an area of 1160 hectares accommodating two parallel runways 3.7 kms in length and 60 meters wide along with end to end taxiways for rapid exits. The efficiently designed terminal building works as a central processing unit to the two concourses. The two concourses each 1.3 kms long located on the either side connected to the terminal building by bridges is in H-shape model. The proposed terminal design is both distinct and aesthetically pleasing while being functionally efficient. The H-shape terminal is being built in the middle of both runways and will have full and complete access from either side- a unique feature.
The buildings have been designed to support up to 60 million passengers per annum.  The main passenger processing facility is a five level facility including two mezzanines and additional three- level facility for offices, complex etc. located at its center. The facility processes both international and domestic passengers. The two concourses are the north and the south concourses. In the beginning North concourse will be divided into two, processing both international and domestic passengers. Later when South concourse will be ready it will serve as international concourse and north as domestic concourse.
NMIA has been designed to accommodate the new large aircrafts compatible with International Civil Aviation Organization (ICAO) Aerodrome code 4F. It helps in handling super Jumbo Jets like A-380 and wide- body jet liner B 747-8. It consists of 107 commercial aircraft stands, 78 contact gates and 29 remote parking stands for passenger aircrafts. Also the cargo stand has capacity of 20 wide bodied Aircraft at Cargo stands.
Technical standards for safety and operating procedures at NMIA are as per International norms and agreements.  It comprises Visual Landing Aids: PAPI, CAT-1 instrument landing system with provision for upgrading to CAT- 2.  Lighting is used at airports that allow night landings. The airport is equipped with threshold lights, high intensity runway edge lights, apron flood lights etc. It also has two aircraft rescue and fire-fighting stations.
Located approximately 40 kms form the existing CSIA airport, 47 km from South Mumbai and about 45 Kms form the western suburbs, the NMIA will be provided with enhance connectivity ensuring easy and quick access. The Mumbai trans- harbor link one of the biggest proposed structure in Mumbai Metropolitan Region (MMR) expands 22 kms across the open sea connecting South and Central Mumbai connecting NMIA within 30 minutes. New Transit Corridors (Metro & Suburban Rail) are also being proposed to cater to the demand during the later phases of Airport development.
The Maharashtra Chief Minister Devendra Fadnavis states that the first phase of the much delayed NMIA project will commence by December, 2019 and the new airport will be ready for full operations in 2021. This ambitious project will surely give joy to the city and passengers.