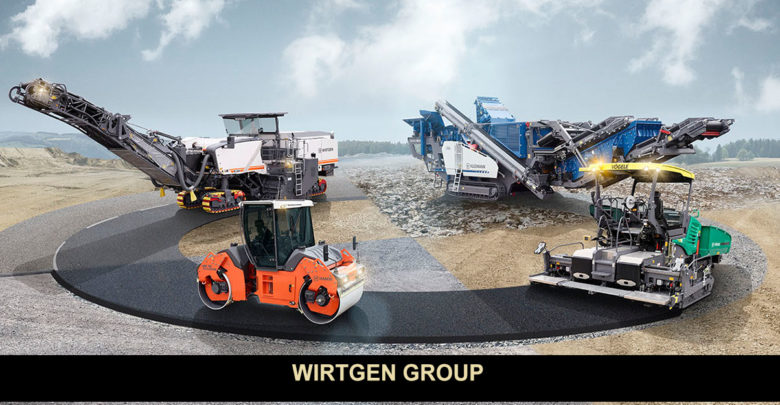 Pathbreaker in Road and Mineral Technologies: Specializes in its own field
At Excon 2017, Wirtgen Group will give an in-depth insight into the comprehensive range of Wirtgen solutions for road construction and rehabilitation.
The Wirtgen Group, with its product brands Wirtgen, Vögele, Hamm and Kleemann, will be showcasing leading technologies for the entire Road and Mineral construction process chain at Excon 2017. Wirtgen's milling machines W 195, W 120 R and slipform paver SP 62 will be presented for the first time at Excon in India.
More than 20 premium products in Bangalore
Each of the product brands specializes in its own field and focuses on the further development and enhancement of its own technologies. This generates immense innovative power. The trade visitors also will be able to experience this themselves at the Wirtgen Group exhibition area (Booth OD 14 & OD 15), where more than 20 exhibits will be on display.
Show highlights: Innovations from the premium product brands
Wirtgen will be presenting as many as three Indian premières at Bangalore: the large milling machine W 195, the small milling machine W 120 R and the Slipform paver SP 62. In addition to these highlights, the small milling machine W 100 H, the compact milling machine W 130 CF, the recycler and soil stabilizer WR 240 and the offset slipform paver SP 15, the inset slipform paver SP 94 and the texture curing machine TCM 180 will give visitors an in-depth insight into the comprehensive range of Wirtgen solutions for road construction and rehabilitation.
With the new SUPER 1400 and SUPER 1403, Vögele are presenting true all-Indian road pavers for pave widths up to 7.3 m. The new tracked and wheeled pavers set new standards in everything that matters to Indian road construction companies. Both pavers come with ErgoBasic, the revolutionary system for easy paver operation. ErgoBasic simplifies the paver operators' work and provides comfort and ease. In addition to these machines, Vögele are also presenting the Universal Class SUPER 1800-3 paver and the Highway Class SUPER 2100-3 paver at Excon 2017.
Hamm, leading manufacturer for compaction technology in India and also worldwide, is presenting its compactor 3520 with an operating weight of 20 t as well as the compactor 311 as basic version and the compactor 311 D with additionally powered drum. For asphalt construction, Hamm is presenting two articulated tandem rollers: the compact HD 12 VV (series HD CompactLine) and the HD 99 with an operating weight of 9 t. Moreover, Hamm is showcasing the rubber wheeled roller GRW 15 in Bangalore. This roller can be used for both asphalt construction and earthworks.
Products Exhibiting at Excon 2017
At this year's Excon, Kleemann will be exhibiting three products from the EVO line: the mobile jaw crusher MOBICAT MC 110 Z EVO, the mobile cone crusher MOBICONE MCO 9 EVO and the mobile screening plant MOBISCREEN MS 703 EVO. The plants are characterized by compact dimensions, good transportability, simple operability and flexibility. Each machine in the EVO line also impresses with individual highlights, which will be presented at our booth. They complement one another perfectly in a machine combination. The Continuous Feed System guarantees optimum crusher utilization and regulates the material flow. The emergency-stop control that covers all crushing and screening stages provides the required safety.