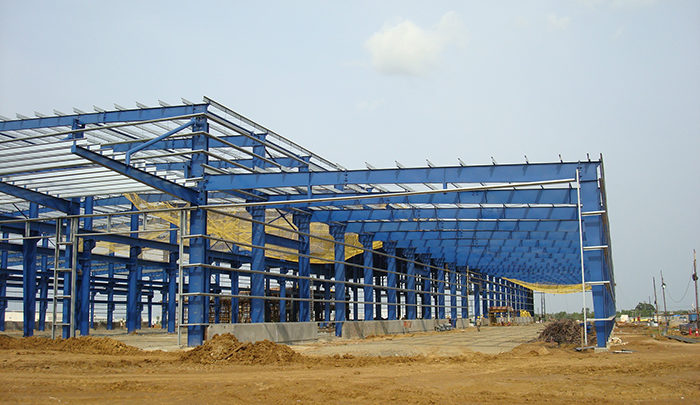 PEB industry would meet the required levels of aesthetics and customization
Technological improvement is the invention of technologies and their commercialization via research and development. Over the year it has contributed immensely to the quality of life through various products and services. Pre Engineered building (PEB) is one such technological invention which was originated back in 1960's but gaining popularity in present.
Pre Engineered building are factory-built buildings of steel that are shipped to site and bolted together. This style of construction is ideally suited to industrial buildings and warehouses. It is cheap, very fast to erect, and can also be dismantled and moved to another site. Pre Engineered building are suitable for industrial and commercial applications- be it warehouses, factories, aircraft hangers, cold storages, workshops or any tall building.
The application of pre-engineered buildings concept is very economical and speedy. Building can be constructed in less than half the normal time. These building can be built in any type of geographical area like extreme cold hilly areas, high rain prone areas, plain land and extreme hot climate zones as well. Pre-engineered building application can be adapted to suit a wide variety of structural application like manufacturing warehouses, factories, gas stations, air craft hangers, metro stations, bridges, railway platform shelters, stadium roofs etc.
At present concept of Pre Engineered warehouse proliferate in India. These warehouses have not only proved to be beneficial due to functional advantages, but they are the most appropriate and effective for the warehousing industry. As the warehousing market in India is expected to grow at CAGR of 12.17 percent by 2020. Warehousing space has grown by 60 per cent in the past few months. In upcoming months the sector is likely to face high demand. Pre Engineered solutions used in warehouse and cargo buildings offer limitless opportunities for the end user. These warehouses can be customized to any shape or size and are equipped to maximize  storage space, are economical to build, well- ventilated, and convenient to furthermore expansion in area.
PEB buildings are gaining advantage over conventional steel buildings because of their structure weight. These buildings are on an average 30% lighter than conventional steel buildings because of the efficient use of steel. Designing of these buildings are quick and efficient and take an average time of 6-8 weeks to deliver to the location. Erection process of these building is faster and much easier with very less requirement of equipment. Over all pricing of PEB may be as low as 30 per cent than the conventional building.
Although the concept of PEB is becoming popular amongst corporate sectors, its application is still limited in the residential sector. Residential segment is a totally different market. Here the customers are individuals whose requirements are very significantly from that of a business or an enterprise. In developed market PEB has already set foot in and being used for low rise structure such as offices, hospitals, retails malls, housing and resorts where as in India, PEB is yet to venture these areas. Industry experts are confident that the PEB industry would meet the required levels of aesthetics and customization in the near future as need for high demand construction and better quality project  will act as catalyst for this sector.