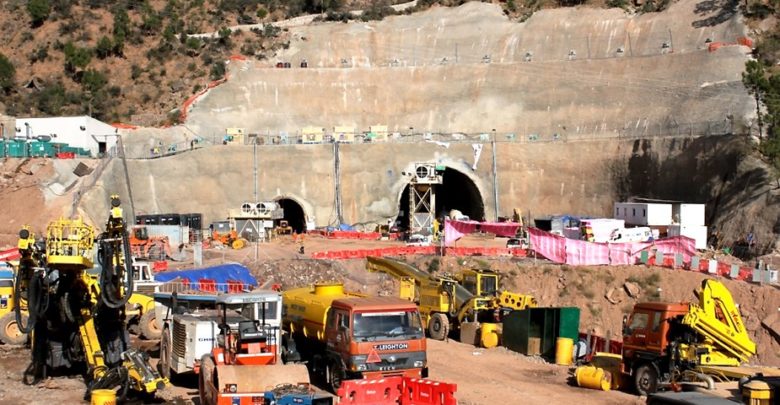 The Chenani- Nashri tunnel (CNT)
The Chenani- Nashri tunnel (CNT), which was inaugurated by Prime Minister Narendra Modi in April, 2017 is the country's longest road tunnel in the state of Jammu and Kashmir on NH 44 and will reduce travel time between Jammu and Srinagar by almost two hours. This project is part of the 286 km long four- lane planned undertaking of the Jammu- Srinagar National Highway. The Chenani- Nashri Tunnel (CNT) project creates reliable all- weather connectivity between Chenani and Nashri. This section is otherwise remains closed for about 40 days a year due to bad weather conditions.
It is India's longest road tunnel with a length of 9.28 km and is located on the lower Himalayan range at an altitude of 1,200 metres.The tunnel reduces the distance between Jammu and Srinagar by 31 km and cut travel time by two hours. The all-weather tunnel bypasses snowfall and avalanche prone areas, which used to cause obstruction on highway in every winter in the form of long queues of vehicles- sometimes for days at length.
The project is believed to have been conceived around 2009, during Manmohan Singh's tenure as Prime Minister and by 2010 the project was finally awarded. However, commencement on site was started in 2011. The National Highways Authority of India (NHAI) appointed IL&FS Transportation Networks Ltd (ITNL) as the concessionaire for the project through a competitive bidding process. This two- lane tunnel between Chenani in Udhampur district and Nashri in Ramban district was design, finance, construct and operate by ITNL. Built at cost of Rs 3,720 crore, the tunnel reduces the distance between Chenani (Jammu)and  Nashri (Srinagar) from 31 km to 9.2 km. ITNL believes that by bringing travel time down by two hours the tunnel would leads to fuel saving of Rs 27 lakh per day.
CNT is a single- tube bi- directional tunnel, with 6 meters diameter escape tunnel runs parallel to the main 13 m- diameter tunnel along its entire length. The main tunnel is internally connected to the escape tunnel tube with 29 cross- passages placed at 300 meters interval, allowing for evacuation in time of urgency.  CNT is country's first and the world's sixth tunnel with a transverse ventilation system. Since such a long tunnel could present problem of a lack of oxygen, to ensure that, there are several exhaust meters that will check air all through the length of the tunnel. With inlets, every 8 meters, bringing fresh air into the main tube, and exhaust outlets every 100 m opening into the escape tube. The tunnel is not only India's longest highway tunnel but also the longest in South East Asia region.
The tunnel is equipped with the Integrated Control System (ITCS), which integrates tunnel operation, safety features and electro mechanical systems, so that ventilation, fire control, signals, communication and electrical systems are controlled and auto- activated by single centralized software. It is also built to withstand a fire equivalent to the blast from a fully loaded petroleum tanker. A unique feature of the tunnel is that it is completely dry. This has been done by using water proofing membranes behind the concrete walls. A system behind the membrane collects the water coming down form the mountains and takes it to central drain. The collected water is then saved for captive use such as for firefighting and other activities.
The CNT tunnel built at an elevation of 1200 metres and was bore beneath 1050 metres of mountain. This means that excavating for the tunnel required especially careful and expert blasting. The engineers used the revolutionary New Austrian Tunneling Method (NATM) of sequential excavation, which exploit the strength of the native rock mass. The whole excavation process took four years to complete.
This successful completion of project has set example for all others construction firms in India. This project is not just another structure but a technological marvel. CNT is going to be an engine growth for the people in valley as well as a big leap in the development of State. Importantly, the success of this project will boost the confidence of planners and urge them to come out with more and more such kind of challenging work.