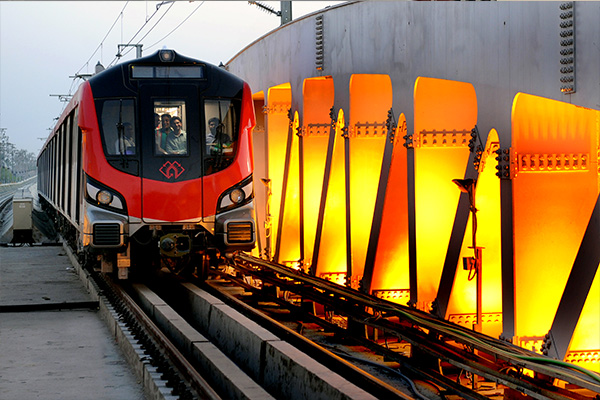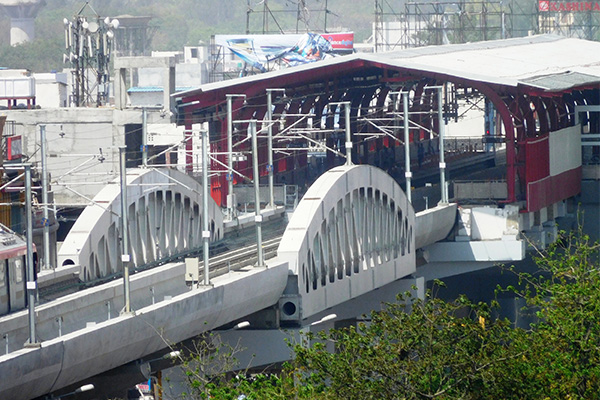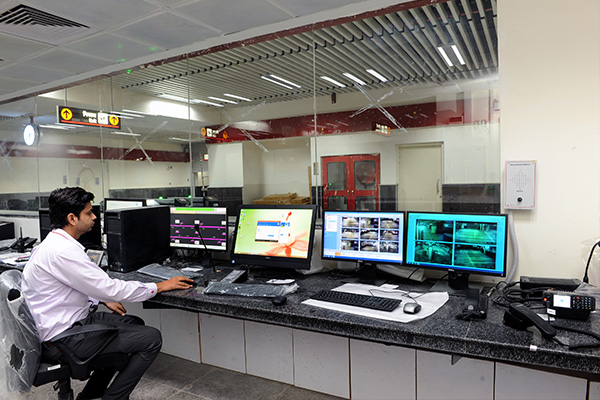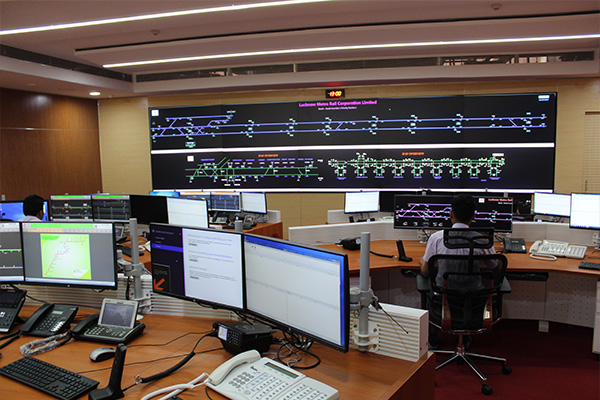 Lucknow Metro, the most awaited dream project of the people of Lucknow, is progressing at a very fast pace and has already achieved the distinction of being the fastest Metro project execution that has ever been undertaken in India. The priority section of North- South Corridor (Phase 1-A), which is of 8.5 kms of the stretch is already operational for Public with effect from Sep 2017. This stretch is being executed in less than 3years of span which is a record it itself. No other Metro project in the country has even been able to achieve this feat in the past.
This mass rapid transit system is constructed to provide the city of Lucknow in the state of Uttar Pradesh, India, an environment friendly and alternative means of transport. Metro is expected to change the way people commute in the city of Nawabs as city will get faster, affordable and stress free travel experience. This is also likely to ease the congestion on Lucknow roads to some extent.
The project is being developed by the Lucknow Metro Rail Corporation (LMRC), a special purpose vehicle (SPV) formed in late 2013 that is jointly owned by the government of India and government of Uttar Pradesh. A final detailed project report (DPR) for the Lucknow Metro was submitted to the Ministry of Urban Development in August 2013 and was approved in December. Construction on the project began in the second half of 2014.
The Lucknow Metro rail project consists of two corridors, which are the north-south and east-west corridor. The north-south corridor is scheduled to start full operation in early 2018, while the second corridor is expected to start operations by early 2019.
North-South Corridor (CCS Airport-Munshi Pulia)
Distance: 22. 878km
No. of Stations: 21
East-West Corridor (Charbagh-Vasantkunj)- Proposed
Distance: 11.098km
No. of Stations:12
From north-south corridor, the elevated sections comprising 19 km and underground stretch is of 4 km. There are total seventeen elevated and four underground Metro Stations in this 23 km long North-South corridor. Proposed East-West corridor will stretch between the Lucknow railway station and Vasantkunj for a total length of 11 km, of which 4.54 km will be elevated and 6.55 km will be underground. It will feature seven underground and five elevated metro stations
Construction methods adopted for the whole project include building elevated viaducts using pre stressed concrete box girders placed on a single pier with pile on open foundation, the use of a tunnel boring machine (TBM) or the New Austrian Tunneling method (NATM) for underground sections, and cut- and- cover with top down method for underground stations. The team has smoothly executed some most challenging and critical task on time. The construction of special balanced cantilever metro span of 255 meters at Mawaiya railway crossing is executed at a height of 21.5 meters above the ground level while surpassing over a railway crossing. At Awadh Rotary, metro has executed a 60 meter special steel span Metro bridge crossing the rotary over a statue in the middle of the rotary. This bridge connects both the ends of the metro viaduct to provide a seamless connectivity for Metro train operation and is one of the rare kinds of work in the city.
The trains have design speed of 90 kmph & schedule speed of 32 to 35km per hour with dwell time/stoppage of 30 seconds per station and design headway of 100 second. Body shell of cars made of stainless steel. Train cars are energy efficient, reliable and better comfort to passenger in terms of riding quality, lower-noise level and environment friendly. Ergonomically designed handrail & grab handle system is assembled for easy & comfortable standing. Large windows & scratchproof stainless steel bucket type seat are fixed for comfortable sitting. It is highly efficient trains with LED lighting and regenerative braking to feed the energy back to overhead electrical energy system during braking. All systems monitored & selectively controlled by a microprocessor based train control & management system. Train exterior is a tribute to the cultural richness of the city of Lucknow.
Lucknow Metro is taking several energy conservation measures such as use of regenerative braking in the trains which will result in saving of 30 to 35 per cent traction energy thereby resulting in reduction in emission of Green House Gases, use of 1% criteria for underground stations in the AC system for the stations, using Variable Voltage Variable Frequency (VVVF) drive for all lifts and escalators, provision of LED lights at stations, use of energy equipment for Environment Control System (ECS) and Tunnel Ventilation System (TVS) for the underground section etc. Currently 1.5 MW – 2 MW of electricity has been planned by Lucknow Metro to be used from the roof mounted solar photo voltaic cells of train stabling and inspection line sheds under RESCO model. LMRC has always implemented green construction practices at its project site. The anticipation to recover the entire cost of the project is in 5 years.
Lucknow has witnessed enormous growth during the last 10 years. This is mainly the result of immigration as the city being capital of the State and provides better employment opportunities.  Being thickly populated area, Lucknow's traffic needs cannot be met by only road – based system. This rail based metro system is the best consideration to ease congestion on roads. LMRC is leading the baton in Uttar Pradesh and emerged as a role model in bringing a Mass Rapid Transit System revolution in the state.