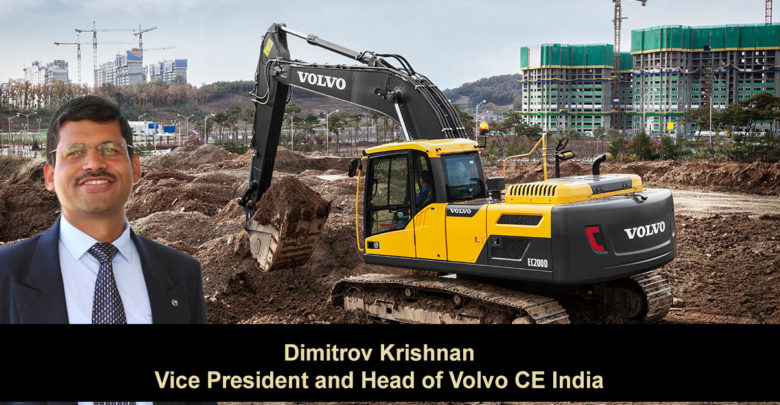 Unique position supporting India's ongoing infrastructure buildout
Volvo Construction Equipment is all eager to highlight its strength in depth as well as display the superior productivity of its machines during the upcoming EXCON 2017 show.
Q 1.) Tell us about the road building and coal mining demands and relative growth in India in 2017-18?
The Indian government's ambitious plan to improve infrastructure will facilitate further growth in the construction equipment industry, notably in road building which remains a very active sector. We also expect that more equipment will be required in coal mining, particularly large excavators.
Q 2.) What are your growth predictions of development for "Volvo Construction Equipment"? How it will push your business?
In the short to medium term, we see a very bright outlook for the Volvo Construction Equipment. India has a lot of potential thanks to the government's strong push for infrastructure development. This will almost certainly lead to stronger growth in the construction equipment industry. As a market leader, Volvo CE is excited to play a part in facilitating India's development.
Q 3.) What strengths are you seeking from EXCON 2017? In what ways your company's future prospects will benefit from this experience?
For Volvo CE, Excon 2017 is a perfect platform to highlight our unique position in supporting India's ongoing infrastructure buildout. We are excited to highlight our strength in depth as well as the superior productivity of our machines during the upcoming show.  We will have machines on show in two distinct sections on our booth, with these targeted at road building and mining construction. So, Excon 2017 is a great opportunity for us to meet with customers and colleagues from a wide range of businesses and update them on our latest products, which this year include the exciting new EC200D excavator.
Q 4.) Volvo is highlighting the diversity and superior productivity of machines in EXCON launching stage 2017. What new products are you revealing in this show?
At Excon 2017, we will be displaying the new and highly-anticipated EC200D at our booth. It formally launched in India at the show, so visitors will get the first chance to see the new machine up close and personal. The excavator will be part of a wide spectrum of our industry-leading products on display, as we seek to highlight the diversity and superior productivity of Volvo machines.
Joining the EC200D on stand are its sister machine, the EC210D, similarly a 20-ton rated excavator, and the EC950E, the largest excavator in the Volvo line and one of the largest on show in Bangalore.
With road building still in the spotlight in India, Volvo will be showcasing a range of products to help contractors beat deadlines and boost profitability on the job. From our wide range of road building machines, the P6820C ABG tracked paver; and the previously-mentioned DD90B asphalt compactor and SD110BA soil compactor will be on show. Rounding out the Volvo product display at Excon 2017 is the L150H from our line of wheel loaders.
Volvo Trucks will be exhibiting alongside Volvo CE and, in total, we will occupy some 2,100 m2 of exhibition space, making it one of the largest displays at Excon 2017. We can be found at outdoor booths 22-26 and there will be senior Volvo executives and representatives from our nationwide dealer network present throughout the week.